Welcome to the home of plagmanbarn.com. Plagman Barn is located in Clayton County,@ 28384 Garber Road, Garber, IA, just 2 miles east of Garber, and 10 miles west of Guttenberg, IA.
2016 Northeast Iowa Farm & Antique Association Meeting & Event Schedule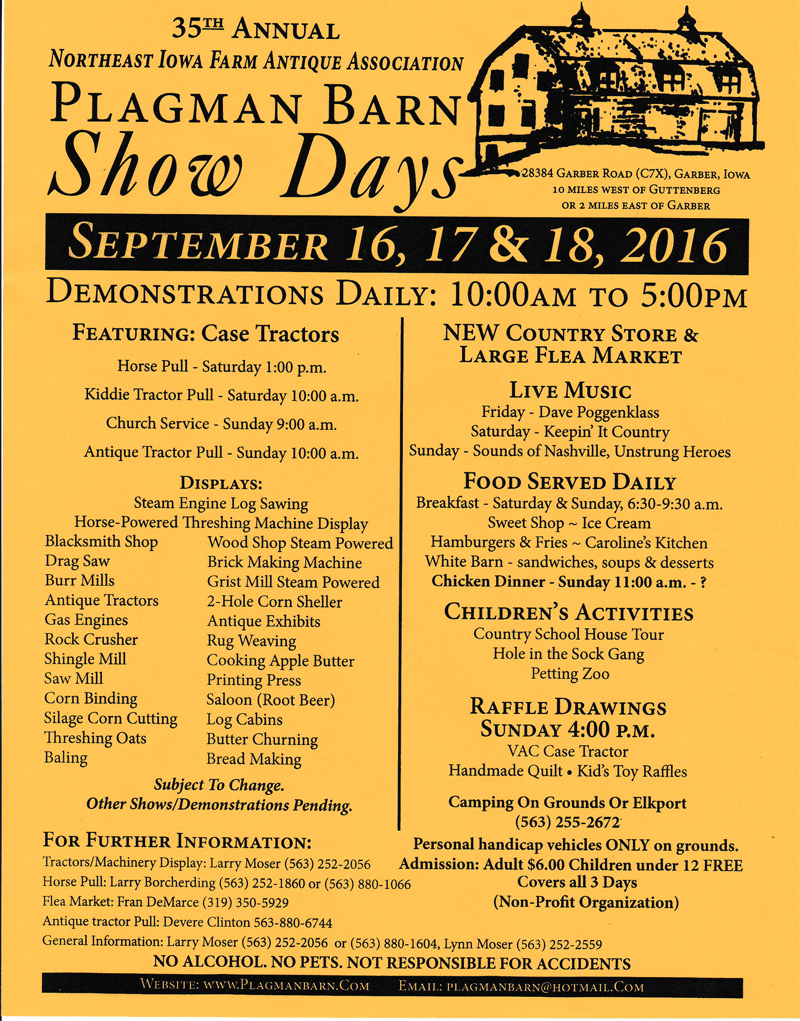 Show Days - September 16th - Music by Dave Pogenglass
September 17th - Music by Keep'in Country
September 18th - Music by The Sounds of Nashville with Steve Moser.



Men's Meeting dates;
February 21st -Colesburg Country Club, 10:00 Breakfast meeting
April 10th - 1:00 PM,
May 15th - 1:00 PM
June 12th - After Chicken Dinner and Dance
July - No date set at this time.
August 14th After the Dance
September 11 - 1:00 PM
October 9th - 1:00 PM
November 13th - 1:00 Pm


Scenes from
Plagman Barn Show Days
2014
Antique Association receives Grant for Preservation of Steam Powered Woodworking Equipment
Northeast Iowa Farm and Antique Association (Plagman Barn) located near Garber , Iowa, is dedicated to the preservation of our rural farming heritage and the tools used in the pioneer days of agriculture.

The Association has received a grant from the Upper Mississippi Gaming Corporation to construct a 20'X 48' enclosed building which will house a steam engine used at the Guttenberg Canning Factory, and display steam powered woodworking equipment in action. The building has observation windows to allow the public to view the antique woodworking equipment being operated. The building will also allow people to see the steam engine as it existed in the factory setting.

The building will be on display during Show Days, which runs the third full weekend in September each year at the Plagman Barn grounds. The Association plans on restoring each piece of equipment and hooking it to an old time line shaft, which will power the equipment for demonstrations. We invite you to attend our Show Days and witness history come alive.

The Plagman Barn is extremely grateful to the Upper Mississippi Gaming Corporation and their generosity in awarding this grant that will preserve this part of history.

For more information on the building and equipment, contact DeVere Clinton at 563-245-2317

Plagman Barn Cookbooks for sale:
Now 1/2 price Just $5.00!
Sold during Plagman Barn events. During
Show Days in Sept. they will be sold in the Country Store, and other places on the grounds.
The 2009 book contains a history & information about Plagman Barn, and a variety of favorite recipes from Plagman barn members & friends.

View the 2009 Show Days Photo Album
click here
See local points of interest & Visit our friends and neighbors online